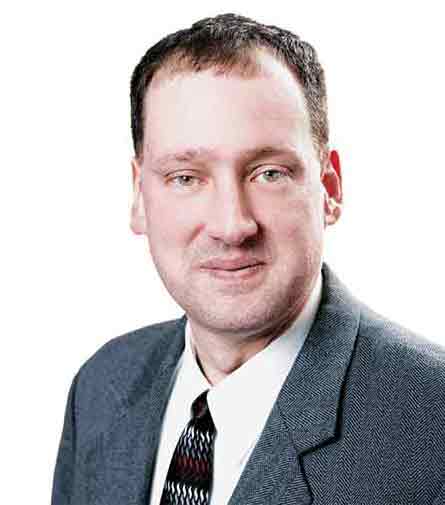 Scott Kongable, President
As Kongable looked up from his computer screen in response to a knock on the door, he saw Shaw walking in with an expression that could be called a 'Eureka moment.' Jim Shaw, EVP of Engineering at Crystal Group has been onboard for few weeks now, and as he sat facing Scott Kongable, the company's President, explaining his idea about a product to exploit the opportunities presented by the virtual world of computing, Kongable realized that it's the beginning of a new era for Crystal Group. The meeting marked the birth of the Rugged Servers (RS) series that soon took the industry by storm with its performance, ruggedness, and reliability.
Located in Hiawatha, IA, Crystal Group—designer and manufacturer of operational, deployable, and high reliability computing applications, started as a computer consulting firm that designed industrial computers for the telecommunications industry. While many companies collapsed financially after the great telecom crash of 2001, Crystal Group held its ground and steered the wheel towards military and government sectors, offering rugged, commercial-off-the-shelf (COTS), custom-designed computers, displays, networking devices, embedded systems, and storage devices in partnership with industry giants like VMware.
Today, the company has more than 500 military program deployments under its belt and has been recognized by the US Air Force for its contributions on the B-2 "Spirit" Stealth Bomber's Adaptable Communications Suite program.

Crystal Group principally designs products according to the customer's unique requirements, while offering technical advice using its experience in the rugged computer industry to simplify applications, enhance performance, and reduce cost. The company has been known to serve customers that required Crystal Group to get a 100FX fiberNIC that would be supported in VMware, until another project, that replaced the old fiber switches, could be completed to upgrade to one gbit. The server used was shipped with four fiber network ports, two for what could be supported "now" and two for what would be supported after the network upgrade. "We use our proven design techniques with which we can speed up the design, reduce the risk of issues with assembly, and when we get requirements that are similar in the future, we can leverage our previous experience," explains Shaw. Chip Thurston, Crystal Group's Chief Architect and Technical Director further adds, "in certain industries like military, applications often lean on similar standards, but at different levels.

To make sure that we meet as many customer needs as possible, we often combine different needs into a 'superset' of requirements. For instance, we have a combined vibration profile that includes several different test profiles under one umbrella, so that our solutions are more appealing to customers that are airborne, ground based, or at sea."

Crystal Group tries to stay ahead of both customer needs and leading edge technology. As such it is paying keen attention to the new XPoint technology from Intel that will bridge the gap in performance between DRAM and NAND. "I like the idea of having a single virtual machine workstation with 10x the memory capacity of DRAM, but with a 2-3 percent performance hit. I'm also interested to see where storage goes in the near future. We've recently been riding the hyper converged wave, where drives were moved back into the server after being removed to Storage Area Network (SAN) solutions years ago. Non-Volatile Memory Express is another interesting concept to look forward to," exclaims Thurston. "As for the next wave, our company is positioned to be as fast and flexible as possible. When a customer wants to do something that isn't even possible yet, we are ready to design to their performance metrics the day the technology is available to get us there," Chip concludes