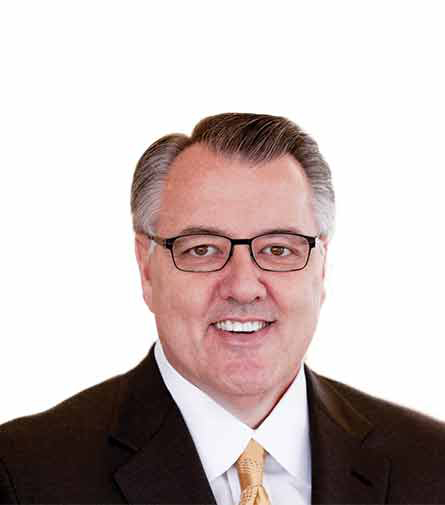 Greg Brown, Chairman & CEO
Ruggedness today is a commonplace. Most smartphones come pre-equipped with gorilla glass and/or varying degrees of water and dust resistance ratings. Normal day-to-day customers demand reliable and quality products that can weather all types of abuse, so there is a market for ultra reliable products and solutions for industrial/professional applications. Be it construction, logistics, emergency, or law enforcement, rugged solutions fulfill the needs of those who are always on the move and work in dangerous environments—often in all types of weather conditions. The problem with most rugged solutions available on the market is that they do not feature any new tech like faster processors, better storage, advanced security and encryption, cloud integration, or robust UI.
With its 85 years of expertise, Motorola believes that it can effectively fill the gap in the rugged communication devices market. Motorola products are designed for the challenge of everyday professional use—tough and rugged, tested to the extreme, these products are built, made ready for anything.
"We are dedicated to designing and delivering the technologies that keep our business and public safety customers safe and productive—the lifeline they count on," states Gregory Q. Brown, Chairman and Chief Executive Officer, Motorola Solutions, Inc.
Recently launched APX NEXT™ and ASTRO™ P25 radio systems are engineered to work flawlessly in all weather conditions and go through rigorous physical tests like drop, dust, water and shock tests. These radio systems can be operated—with or without gloves and can switch between private networks and LTE ensuring professionals stay in touch at all times. Radios also sport rugged capacitive touch screen, easy to use UI and extended battery modules. Apart from the usual features, an AI bot can perform certain tasks simply using voice controls. These new radios are configurable over the cloud for immediate and out of the box deployment in just 10 minutes using smart programming. Smart programming enables radios to be updated with zero touch and downtime over the air using 4G.

For agencies to get started, all the necessary solutions like infrastructure, device management and cyber security solutions are also provided. Motorola manages the entire process—end to end, from planning to execution with collaborative effort from trusted partners. This brings unprecedented advancements in mission-critical voice and data because it will not be time consuming for agencies to adopt Motorola's devices. For safety personnel, radio is their lifeline when out in the field. Now, officers can focus on what matters most, their mission; saving lives. New solutions have already been deployed to various law enforcement agencies around the world.

Rugged communication solutions with up-to-date technological standards can ensure better public safety and operational efficiency. When Muskegon Heights, Michigan, a thriving commercial and residential hub was hit hard by economic downturn—budgetary constraints stopped the Police Department from taking action. Poverty resulted in drugs, gang warfare, and violent crime rates surpassing the national average. Chief Dr. Joseph E. Thomas, Jr. took over the Department—given the minimal budget for improving public safety; He opted to use Motorola' solutions. Today, all of Muskegon Heights Police officers wear Motorola's body-worn camera systems and two-way radio systems. Since the initial investment, improvement in accountability, legitimacy and a stronger partnership with the citizens of Muskegon Heights is observed. Motorola also provides customizable solutions for Education, Healthcare Hospitality, Manufacturing, Transportation & Logistics, Utilities, and Retail as well.

In the near future, devices will be capable of much more—in part due to IoT integration and 5G. Devices will feature smart use of accelerometer, temperature, moisture, distance, pressure, infrared, magnetic, proximity, and substance detection sensors. This will create new use cases, as mobility is important for businesses and professionals. The demand for innovation in the rugged market will result in more robust but sophisticated devices.